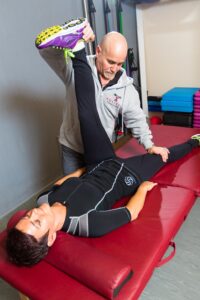 Christmas and New Years can be stressful for anyone.  We are certified A.I.S. Practitioners (Active Isolated Stretching via the Mattes Method) for over 3 years and many of our clients love to book a manual stretch session with us.  A.I.S. stretches chronically tight areas that may feel "glued down" and inhibited even with regular, post-workout static stretching.  A.I.S. also releases fascia along with the tight muscle as the muscle is held together by the fascia.
We have also included in our A.I.S. sessions, a short body massage (clients keep their clothes on) with our "Thumper" percussion massager.  Some of our clients have been introduced to Thumper already and love how it makes them feel afterward.
Percussion massage using a Thumper Vari-Pro improves 3 main body functions being blood flow, lymph flow and nerve supply through the body.  It promotes nutrient absorption and cleansing to the cells and tissues of the body.   The Thumper percussion massager does not replace a skilled massage therapist so we encourage regular visits to your massage professional to keep you in tune.  The Thumper percussion massager is an enhancement to our A.I.S. service.
Why not book an A.I.S. session today or give a gift certificate for an A.I.S. session to pamper your special someone?