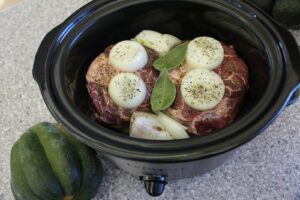 Those who know me know that I use my crockpot a lot.  In fact, we have two of them going sometimes.
I especially like them when we are busy on weekends and want a hot, delicious meal with meat and vegetables and a salad on the side.  Today I have beef shanks with lots marrow in the bone slow-roasting with some onions, bay leaf, herbs and red wine.  The acorn squash will be cut up and added to the mix about halfway through the cooking, or if I forget, I will roast the squash in the oven separately with some olive oil to brown it.
Crockpots are great aids to busy lifestyles and they are low maintenance.  I use the low setting almost always and let food cook for a minimum of 5 hours up to a maximum of 8 to 10 hours.  Be careful not to put too much liquid in the crockpot as the meat and vegetables will release their own moisture.
A slow cooker ensures that we are on our mark with our food plan and are not tempted to run out for fast food, which isn't as healthy as a home-cooked "slow food" meal.  Lamb shanks are especially great to slow-cook in the crockpot!  There are many great crockpot recipes to try and this is also a Paleo-friendly recipe.