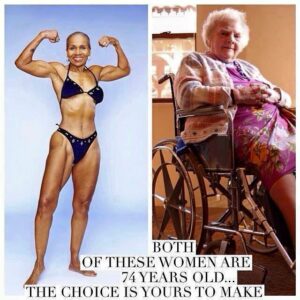 Spending an hour on the treadmill isn't enough.  Neither is walking the dog.  As you age, your body is in a state of deterioration, starting as early as age 30.  By age 50, most of us will have lost over 20% of our muscle mass.  This means age-related weight gain as we gain more body fat and loose our strength.
You age faster, unless you are doing a strength training program ideally, 3 times a week.
Stop doing the slow, steady-state cardio day after day.  Raise your resting metabolic rate by adding a little muscle to your body.
Studies show that the last 6 to 8 years of our lives are spent either dependent and unable to look after ourselves or in a nursing home in a zombie-like state on multiple medications.
The good news is that increasing frailty in our later years is preventable.
Three times weekly strength training and healthy fats and lean protein served with vegetables will raise our metabolic rate, keep us vigorous and able to do all our daily activities such as making the bed, cooking meals for ourselves, showering and bathing and navigating stairs in our home.
My father Denis is 82 this year and prepares and cooks all his own meals (even though we live in the same house!), bathes and showers himself, does his own laundry, makes his own bed, cleans his living area, works out in our studio daily and goes for a walk after.  He also plays pickle ball in the warmer months.  He is also a seasoned traveler and is still able to drive long distances.
We can help you prepare for a long and strong future.  Get in touch with us and we'd be happy to help you build your long and strong future!